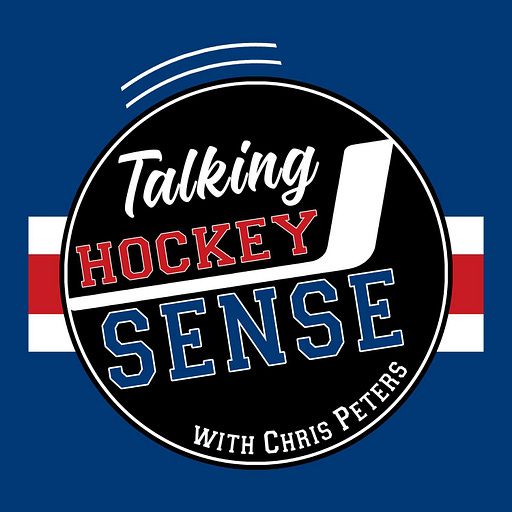 Apr 27, 2022 • 1HR 30M
Talking Hockey Sense Episode 45: U18 Men's Worlds, 2022 NHL Draft and prospect Q&A
A podcast covering all facets of hockey with a special focus on the NHL Draft and prospects with in-depth commentary and frequent guests hosted by hockey writer Chris Peters.
Episode Download Links: Apple | Spotify | Audible | Google | Stitcher
MUNICH, Germany — Coming to you live from my hotel room on a beautiful afternoon in Munich, I spent an hour and a half answering the many questions for Hockey Sense readers and Talking Hockey Sense listeners about a variety of topics. This week's episode spends a ton of time on the 2022 NHL Draft with a special focus on the Men's World U18 Championship that I'm currently covering for Hockey Sense and DailyFaceoff.com.
I got a ton of questions that cover a whole bunch of topics, but here's a brief summary of some of the things we cover.
Isaac Howard's season and draft stock amid this impressive tournament to date.

Adam Fantilli, Connor Bedard and Matvei Michkov, who would be No. 1 right now?

How this U.S. team stacks up to others historically after a hot start to the U18MWC.

Comps for Logan Cooley and Simon Nemec. Plus Lane Hutson's chances to go in the first round.

What would a Top 10 look like if you combined the 2021 and 2022 drafts?

What will happen to the Russian and Belarusian prospects in this draft?

Thoughts on Dryden McKay signing with the Marlies

Assessing Quinton Byfield's rookie year.

A whole bunch more.
Please consider leaving a written review and positive rating on your podcast app of choice and if you haven't yet, subscribe to the pod on your preferred service so you never miss an episode.
Lastly, if you'd like to support the podcast, which remains ad free, please consider a subscription to Hockey Sense with Chris Peters and get access to weekly newsletters featuring in-depth news and analysis from me. Thanks for your support!