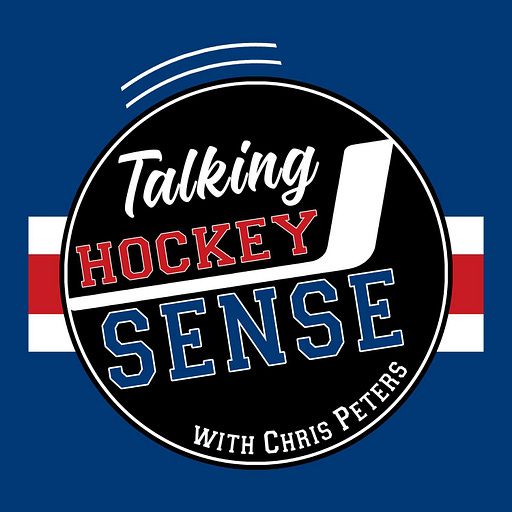 May 25, 2022 • 1HR 31M
Talking Hockey Sense Episode 48: Wright vs. Slafkovsky and more with THN's Ryan Kennedy
A podcast covering all facets of hockey with a special focus on the NHL Draft and prospects with in-depth commentary and frequent guests hosted by hockey writer Chris Peters.
Episode Download Links: Apple | Spotify | Audible | Google | Stitcher
Episode Note: Like most people in the world, I've been reeling from the tragedy in Uvalde, Texas. It hits particularly close to home as the parent of elementary school aged children. It was something I couldn't avoid talking about and something I think we all should be examining closer as it relates to how to prevent such awful tragedies from happening in this country. It's consumed my thoughts and I feel like I have enough of a relationship with my listeners to share some of my own thoughts and concerns. We have to keep talking about this. We can't just move on. However, if that is content you don't want to listen to or would find it too uncomfortable, I wanted to let you know that the brief segment begins at 3:15 of the podcast and ends at 7:45.
The NHL Draft is rapidly approaching and we're going to keep covering it with a variety of guests and answering your questions.
This week, I am joined by Ryan Kennedy from The Hockey News to talk about the NHL Draft preview issue of the magazine and whether or not there should be much debate about Shane Wright at the top of the 2022 NHL Entry Draft.
We also chat about the ceiling vs. floor arguments when discussing a prospect's upside, handicapping the top two defensemen in the draft, the down year for the Ontario Hockey League and so much more.
Also, I took some time to answer your questions about the 2022 NHL Draft and beyond as I do every week. You can message me on Twitter to get your podcast questions in for future epsiodes. Also, don't forget to leave a five-star rating and kind review to help the podcast move up the charts on your app of choice.