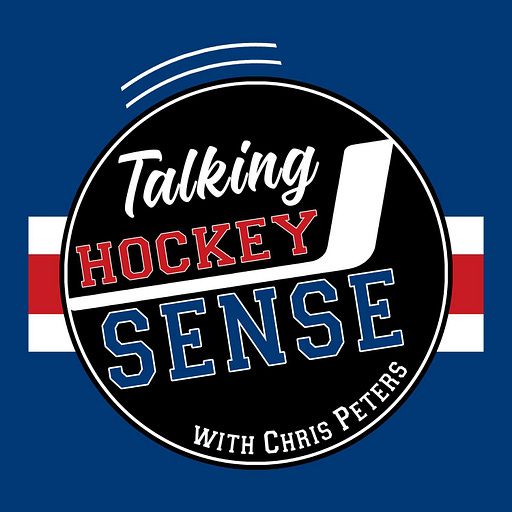 Jun 30, 2021 • 1HR 29M
Talking Hockey Sense Episode 15: Mel Pearson
Michigan's head coach stops by to talk about the abundance of 2021 draft talent in his program
A podcast covering all facets of hockey with a special focus on the NHL Draft and prospects with in-depth commentary and frequent guests hosted by hockey writer Chris Peters.
We're back with another podcast and very relieved to be done with the 2021 NHL Draft rankings, which you can read here. Since four of the top six players on the Hockey Sense rankings are members of or about to join the University of Michigan hockey team, I welcomed head coach Mel Pearson to talk about the players we'll be hearing a lot more about in the coming weeks and months.
Subscribe Links: Apple Podcasts Spotify Audible Google Podcasts Stitcher
Pearson shared his thoughts on Owen Power, how he improved over the season and what he could gain from an extra year if he does decide to stay with the Wolverines after the draft. On Matty Beniers, Pearson shares what makes him different from other players and how he makes a positive impact on his team both on and off the ice. Pearson also talks about the wizardry of Kent Johnson, one of the draft's most skilled players and one Pearson believes has every bit of a case to be a No. 1 caliber pick due to his upside.
The Wolverines also have three highly-touted incoming recruits with likely top-10 pick Luke Hughes being the headliner. Pearson discusses what it will be like to have another Hughes in the program after coaching Quinn, how Luke has progressed from his injury, as well as similarities and differences from his older brothers. Mackie Samoskevich is another potential first-rounder who is coming off a championship in the USHL. Pearson talks about the importance of that experience and how he'll fit into Michigan's plans next season. Lastly, we talked about Dylan Duke, who could be an early Day 2 pick, and why he is so effective at the net-front despite his below-average size for someone who plays the way he does.
We also talked about how Michigan has moved past the heartbreaking end to their season when they were forced out of the NCAA tournament due to a positive COVID-19 test with their team after arrival. Plus, Pearson looks ahead to next season, which could be another substantial one for a program on the rise as the Wolverines seek to end a national championship drought that has been ongoing since 1998.
After the interview, I talked about some of the news of the week, including some thoughts on the lawsuits brought against the Chicago Blackhawks and what needs to be a takeaway for the rest of us regardless of the end result of the legal proceedings and the team's internal investigation into these serious allegations. I also talked a bit about the U.S. National Sled Hockey Team's gold medal, the unparalleled career of goalie Steve Cash and a few other news and notes from around the game.
Lastly, I answered questions from subscribers and listeners including topics like….
Why Kent Johnson over Chaz Lucius on my rankings?

Who should the Red Wings target with their second first-round pick acquired in the Anthony Mantha trade?

If the Flyers are in the trade market, how much value does the 13th overall pick hold and would next year's pick be more valuable?

What ever happened to Josh Ho-Sang and will another team consider picking up as a Group 6 UFA this offseason?

Should new Seattle Kraken coach Dave Hakstol dip into the familiar college ranks and bring Minnesota Duluth coach Scott Sandelin onto his staff?

Lastly, the age old question — what is more important? Draft evaluation or post-draft development? And is there a way to evaluate which teams are any good at development?
Thanks for listening. Don't forget to subscribe to the podcast on your app of choice so you never miss an episode. Also, if you could leave a five-star rating and a review for Talking Hockey Sense on your app of choice, it helps let people know about us. We're only 15 episodes in and growing every week, so I can't thank you all enough for helping this move forward.
On top of that, the best way to support the podcast is by purchasing a premium subscription to this website. You'll get access to all of the draft, prospect, international/college hockey coverage and you're helping support independent sports media. Just click the button below to get started.